Airsoft in Edmonton
The sport of airsoft in the greater Edmonton region has exploded over recent years. With outstanding fields and a great community of players, Edmonton is the heart of airsoft in Alberta.
A Community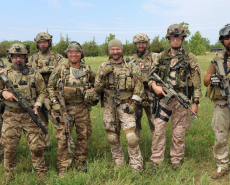 Looking for a great place to exchange ideas about the sport? Need an opinion on some gear? Look no further than our forums, a great community with active moderators.
Event Calendar
Seeking "top shelf" airsoft events? You'll find them here; a wide variety of MILSIM, scenario and reenactment events to enjoy. Most community events are open to all.
Membership Perks
Enjoy membership privileges including enhanced online forum access, signups for exclusive games, as well as discounts on field fees for events and at participating retailers.