Airsoft in Edmonton
The sport of airsoft in the greater Edmonton region has exploded over recent years. With outstanding fields and a great community of players, Edmonton is the heart of airsoft in Alberta.
A Community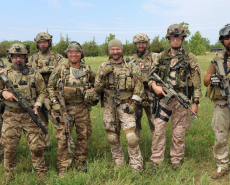 Looking for a great place to exchange ideas about the sport? Need an opinion on some gear? Look no further than our forums, a great community with active moderators.
Event Calendar
Seeking "top shelf" airsoft events? You'll find them here; a wide variety of MILSIM, scenario and reenactment events to enjoy. Most community events are open to all.
Operation Ares
Our groundbreaking multi-season scenario, OPERATION ARES revolutionizes the sport of airsoft in Edmonton. Starting May 2016.